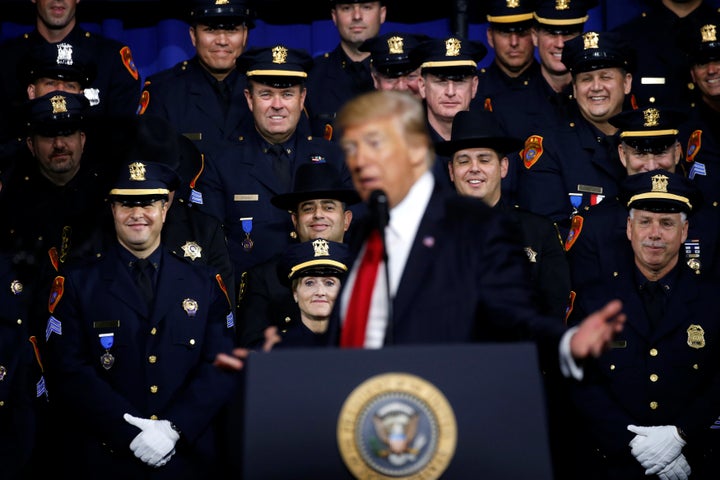 With the line of what is acceptable being crossed and then pushed back with each outlandish action from the current White House administration and decency being redefined to accommodate the indefensible behavior of President Donald Trump, it is hard not to become disgusted by the hypocrisy.  I am well past feeling disappointed.  What is acceptable, good and right is being changed with each interview, after each commercial break.  This is democracy.  Truth created by the people for the people.
And true to form, Mr. Trump has been consistent in speech and character, each tweet and speech outdoing the other.  Recently, two speeches warranted statements from the groups he was speaking to, here being the Boy Scouts and then to police officers in Long Island, New York.  While both are disgusting, the latter is deeply troubling.  Because the sitting President of the United States endorsed police brutality.  He told police to break the law.  To which he initially received applause.
Applause.  Agreement with violating the rights and personhood of citizens who may or may not be suspects?  See "innocent until proven guilty."  Applause.  Affirmation of wrong- doing by those who have sworn an oath to uphold the law– not bring it down to their level and prejudices?  Applause.  Appreciation because the President is saying what you want to say or giving voice to what you really want to do, to some people, to those thugs he mentioned?  Applause.   Permission to incite fear in the residents you have agreed to serve and protect?
And these are police in communities– not soldiers at war with an enemy in a foreign land.  Police officers are patrolling America's city streets and country roads where persons are driving to school and work, persons who want to make it home to family and friends too.  With or without badges, all of us deserve honor.   But, this is not what the current Commander- In- Chief said.
Persons are worried about his access to nuclear codes but I'm concerned about his access to a microphone and a cell phone, for that matter.  Mr. Trump is far from a role model and certainly not a model president.  Still, persons are hanging on his every word and if this kind of speech is mindlessly applauded, then persons could die because of his words.
With communities living in fear, cases pending and families still mourning the deaths of their loved ones, Mr. Trump says, "Please don't be too nice."  With body camera and cell phone footage depicting the shooting death of unarmed American citizens, Mr. Trump says, the laws are "horrendously stacked" against police officers.  His words suggest that police officers should not be held to the highest standard of the law and that we should normalize this kind of bad behavior.  Move the line back.
But, police officers are not judge and jury.  There is due process of law.  And no one has the right to change it to accommodate police officers or a president.  Because then, it's no law at all.  It is but the abuse of power and the passing of social privileges.
Perhaps, this endorsement of meanness is the counter response to political correctness.  I have heard it said that Mr. Trump speaks for many American people, that he says what is on their minds.  Really?  Fellow Americans would agree with the murder of other Americans without due process of law.  They would applaud that?
That's crossing a line and that's not democracy.